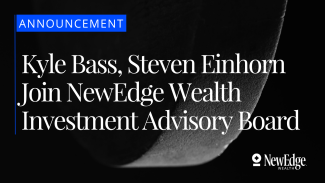 Kyle Bass & Steven Einhorn Join New Edge Wealth Advisory Board
Stamford, Conn. – January 9, 2023 – NewEdge Wealth, LLC, a registered investment adviser specializing in advising ultra high net worth families, family offices and institutional clients, announced that Steven Einhorn, Retired Vice Chairman of Omega Advisors, and Kyle Bass, Co-Founder and CEO of Conservation Equity Management and Founder and Chief Investment Officer of Hayman Capital Management, have joined the firm's Investment Advisory Board.
Bass and Einhorn join other notable board members such as Tom Lee, Fundstrat Global Advisors Managing Partner, Leon "Lee" Cooperman, Omega Family Office, Inc. Chairman and CEO, Brian Rauscher, Fundstrat Global Advisors Managing Director and Head of Global Portfolio Strategy, and Robert Matza, Retired President and Partner of GoldenTree Asset Management. The two will also serve alongside internal board members Rob Sechan, CEO, John Straus, President, Cameron Dawson, Chief Investment Officer and Bill Englis, Head of Research.
Mr. Bass is known as an avid landowner and conservationist in the state of Texas. Before forming Hayman Capital Management, he was a Managing Director at Legg Mason and a Senior Managing Director at Bear Stearns.
Mr. Bass is a current member of the Council on Foreign Relations and has lectured on global economics at various prestigious universities, including Columbia, Harvard and Stanford. He received the 2019 Foreign Policy Association Medal and was recognized as one of the Top 25 Most Influential People in the Global Patent Market as named by Intellectual Asset Management magazine.
Mr. Einhorn served as Vice Chairman of Omega Advisors from 1999-2019. He also had a long-standing career at Goldman Sachs & Co. where he was a Partner and Managing Director, Co-Chairman of the Investment Policy Committee and head of the Global Investment Research Department.
Mr. Einhorn previously served on the Board of Directors of the New York Society of Security Analysts, as well as the investment committee of the UJA-Federation of New York. He was also a former trustee of the Security Industry Institute. In addition, Mr. Einhorn was a member of the editorial board of the Financial Analyst Journal and was selected to the "All-America Research Team" by Institutional Investor for 16 consecutive years.
"It is incredible for these two industry icons to join our Investment Advisory Board," said Rob Sechan, CEO and Co-Founder of NewEdge Wealth. "NewEdge Wealth is building something special, and we expect 2023 to be a great year for us. We are elated for Kyle and Steven to be a part of it. Their immense experience and fresh perspectives will help further shape our investment platform for our ultra high net worth clients."
NewEdge Wealth is a division of NewEdge Capital Group, which currently services over $30 billion in client assets. Since its founding in 2020, the firm continues to experience rapid and strategic growth, while building its national brand. Of note in 2022, the firm added four senior advisors to its headquarters, opened new locations in Manhattan Beach, CA and Miami, FL, appointed specialized team members such as Cameron Dawson, Ben Emons, and Robin Petty, and earned Top RIA rankings from both Barron's and Forbes.
The firm now has offices in Coral Gables, FL; Manhattan Beach, CA; Miami, FL; Park City, UT; Pittsburgh, PA, as well as its Stamford, CT headquarters. Their expansion is expected to continue in 2023.
      
Kyle Bass & Steven Einhorn